Annabelle Richard-Laferrière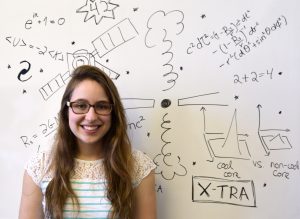 Annabelle is an undergraduate student in Physics currently completing her second year at Université de Montréal.
Her interest is in Astrophysics and she is doing her final research project with Professor Julie Hlavacek-Larrondo.
This project consists in finding in the literature the mini-halos that are already discovered and their characteristics. After, she will try to find a correlation between the characteristics of the different mini-halos to find a hint on what may cause their apparition, as it is not a common object in the Universe.
She will be starting a M.Sc. as an NSERC scholar with Professor Julie Hlavacek-Larrondo in September 2018.
Contact: